About Our Foundation
Every organization should have a powerful purpose for existing. Ours is to help the Rancho Santa Fe Fire Protection District be one of the top fire departments in the country by providing the best emergency medical response and fire protection to the residents of our district. We live in a very diverse community with abundant wild land surrounding us and the potential for wildfire, earthquakes and other natural disasters is always top of mind. We know how quickly fires can spread here in the San Diego area and we want to be as prepared as possible.
Our foundation supports the entire fire district which encompasses 44 square miles of residential neighborhoods, urban community villages and a vast amount of beautiful, natural wild land. We have six fire stations with over 80 full-time employees and an additional 30 volunteer first responders who dedicate their lives to protecting our community. They focus on fire protection, fire prevention, medical aid and ongoing community safety. So every dollar you donate goes towards keeping all of us healthy and safe, regardless of the season.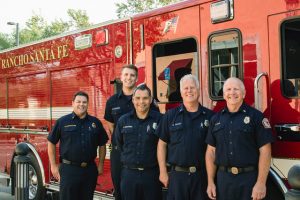 Your first responders serve our community all day – everyday. Our goal is to provide them with additional resources so they can excel at their careers and serve the district with the highest levels of service and care. The financial support the RSF Fire Foundation gives allows for increased training, new equipment, recognition, team building, scholarships and much, much more.
We believe that your donations can improve the RSF Fire District in many ways. Giving to the RSF Fire Foundation can change lives. Maybe that of a first responder, maybe a neighbor or maybe even yours.
For your information, here are the station numbers and the areas and neighborhoods they serve:
Station 1 – Rancho Santa Fe, Sun Valley, The Bridges, Rancho La Cima, Rancho Del Lago, The Groves, Stonebridge and South Pointe Farms.
Station 2 – 4S Ranch, Santa Fe Valley, Bernardo Lakes Estates, Bernardo Point and The Summit.
Station 3 – Fairbanks Ranch, Whispering Palms, Del Mar Country Club, The Farms, The Lakes, Santa Fe Sur, Rancho Farms Estates, Del Rayo Estates and Montecito.
Station 4 – Cielo, The Crosby, Del Dios, Mount Israel, The Summit, Hacienda Santa Fe and Rancho Del Rio.
Station 5 – Harmony Grove Village and Harmony Grove
Station 6 – Elfin Forest
For more specific information on the first district itself, please click here.